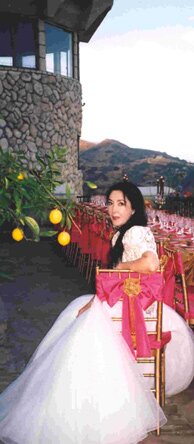 Castle Kashan is the only Castle in Malibu and is the home of Lilly Lawrence, world renowned beauty and Malibu philanthropist. Lilly was dubbed "The People's Princess" by New York Newsday and the "Rose of Shiraz" by the New York Times. With a heart bigger than her Castle, she carries on her family's tradition of helping the underprivileged. Her charity work extends towards the Arts and Children.
Malibu's fairytale Castle that sits high on the hill overlooking the Malibu lagoon, heralds one of California's most spectacular ocean views, from every Lancet, Barbican, Quadrangle and Yett of the Palace.
Residents at Kashan Court consists of Security personnel, Housekeepers, Groundskeepers and a flow of continuous guests and friends celebrating life in Malibu.
Lilly loves to entertain friends and family on the Terrace overlooking fabulous ocean views.
The official caterer to the Stars including Castle Kashan is Richard Chesterfield of Monrose Catering.